AFRICA ON THE BEACH ✘ JOLLOVE ✘ BBQ
Sunny day on the beach with beautiful people having fun in a tropical environment like you in Africa. African music and food are at the forefront of this event.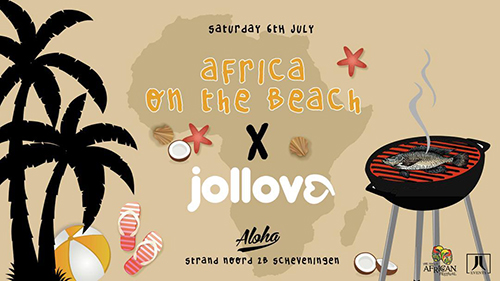 MUSIC
Different Afro djs will be on rotation to take you on a musical journey to the motherland; East Africa, West Africa, South Africa, Central Africa, France/UK Afrobeats and the classic Afro hits!
FOOD
BBQ Chicken . BBQ Beef . BBQ Goat Meat BBQ Fish . Roasted Corn . Jollof Rice & much more! Served by @swingin Safari Den Haag.
ACTIVITIES
✓African drummers
✓Kizomba workshop
✓Afro flashmob
✓Trampoline
TICKETS
We advice you buy ticket(s) online cos there won't be tickets available at the door if they sold out online.
✓Presale €8
✓Door €12
✓Tickets link: http://bit.ly/2WNhAcd
DATE/TIME
Sat. 6th July
2.00pm - 2.30am
LOCATION
Aloha Scheveningen, Strand Noord 2b | Navigatie: Visafslagweg, parking is free there. or Adriaan Maasplein 1.
PUBLIC TRANSPORT
Tram 11 going to Scheveningen Haven/strand. Get off at the final destination.
Event brought to you by The Hague African Music Festival & Jollove Events.

Contactinformatie
Email: Dit e-mailadres wordt beveiligd tegen spambots. JavaScript dient ingeschakeld te zijn om het te bekijken.
Telefoon: +31 (0)6 4304 8992

Event page
https://www.facebook.com/events/2079364022140647/